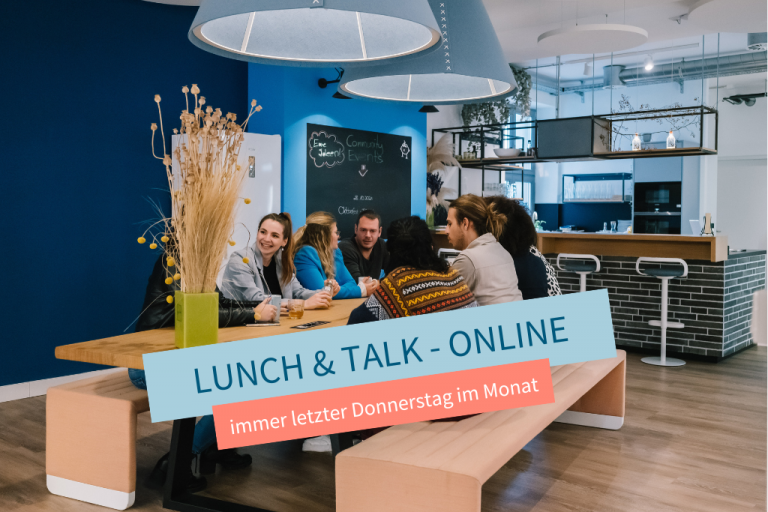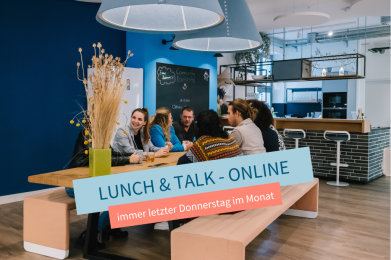 Hello dear coworkers,
productive work in our spaces also requires breaks. How would it be if you could organize them a little differently to get out of the rut?
Once a month we invite you to our new virtual series "Lunch & Talk". Each time we will focus on a different topic and feed your heads with (hopefully) valuable input. 😀
We would like to engage in an active but informal exchange with you, get to know you and share valuable topics, such as new work or founding.
This time, the topic is self-organization – with stress and resilience trainer Elke Hanhus-Kurras.
Our speaker Elke Hanhus-Kurras is specialized in burnout prevention and an experienced trainer in the areas of stress management and resilience building.
So, sign up without obligation, join us online with your lunch, take away tips and experiences for yourself.
For sure, there will be one or two educational things for you as a "take away". 😀
Our community manager Julia will moderate the whole event live and is looking forward to your questions, incentives and impulses.
Julia will send you the link to the event via email in time before the event starts.
We are looking forward to seeing you!
Happy Lunch-Time